Current Installation in the Art Lab
The Lost Art of Dying – Curated by Michael Dugger
Thursday, June 2 to Saturday, July 23, 2022
Signed books and limited edition prints are for sale at the front desk.
Local artist, Michael W. Dugger brings an interactive experience of death and dying in the modern world to Creative York's Art Lab. From his recent illustration series, "The Lost Art of Dying: Reviving Forgotten Wisdom," authored by Lydia S. Dugdale, comes a body of contemplative illustrations harkening back to an old text "The Ars Moriendi," a visual guideline to dying well. Michael's updated adaptation of this ancient work alone calls our own beliefs into question. However, his art, coupled with the experience of the viewer being able to lie in a casket themselves while pondering and wrestling with what they believe to be true about death and dying, adds a real and necessary weight to this conversation in our culture today.
"Diving into a body of work on death and dying has convicted me in my own thoughts and ideas about end of life.  This has given me a desire to see others wrestle with their ideas and misconceptions about this process.  I hope my work will inspire and convict.  Although it may be uncomfortable, it's real and I hope it's the catalyst for each of us to change or at least have a conversation," said artist and curator, Michael W. Dugger.
Artist Bio:
Michael W. Dugger currently works as a firefighter/paramedic and spends his time serving in his local church.  He finds that within these structures he has ample material to draw from and explore. Dugger's current illustrations and painting series explore the links between these two drastically different worlds as well as their similarities and how we respond within our own cultural framework.
Dugger holds a BFA in oil painting from Western Michigan University and seminary training at Capitol Seminary.  He's shown in several group shows on the East Coast and Mid-West.  He has also shown internationally with group and solo shows in Berlin, Germany.  Dugger currently resides in York, Pennsylvania with his wife and four children and is excited to explore the creative energy in and around York County.
To learn more about artist, Michael Dugger, please visit https://www.mwdugger.com.
Limited edition prints and signed copies of  "The Lost Art of Dying:Reviving Forgotten Wisdom" are on sale at Creative York or call 717-848-3200 to order over the phone.
Upcoming Installations in the Art Lab
Sazon y Sabor: Curated by Rosa Catterall
Thursday, August 4 to Saturday, September 17, 2022
Opening Reception: Thursday, August 4 from 6-8pm
Sazon y Sabor will feature works by Rosa Luz Catterall, Lucy Giboyeaux, and Edgar Fahs Middle School STEAM students under the guidance of Roxanne Elfreth, art educator.
"Sazon y Sabor," means seasoning and flavor. The motivation for this installation is to celebrate Latino heritage cooking, as well as acknowledge the strength and determination to endure adversity, which is an essential component in a Latino household.
Cooking is part of a daily ritual, which is exercised now more than ever as we experience a pandemic such as COVID-19. We have all been impacted by lockdowns, illness, loss, food and job insecurity. It is through the resourcefulness, creativity and strength of our community that we find constructive ways to cope – such as cooking. It allows us to shift from being in our heads full of worry, anxiety and fear to healing, nurturing and protecting. In the Latino community, seasonings composed of herbs, spices and an array of different ingredients create flavor and invigorate as well as uplift families and our community. Cooking becomes a celebration of life.
Artist Bios: 
As a Latino immigrant child growing up in the United States, I learned about the safety of my imagination. As an artist, I have found that art has given me a tool to escape safely and tap into a source of release that heals, empowers and provides understanding. I believe that we all experience the world in our own unique way. My art allows me to go on a journey and recapture experiences through different media. As I cross the bridge between thinking and feeling, I always go back to my reference pictures and sketches, but it is really what is in my heart that gets translated into my artwork. As an immigrant Latino woman, I find my themes reflect cultural diversity, movement and growth. I find nature grounds me and helps me move forward in my life. My desire is to connect on a human level with the world. I envision myself inspiring others to be free and to celebrate their own creativity.
I strive to deliver a poignant reflection on human resiliency, continuously exploring the human experience and our grit to move forward in life despite adversity or tragedy. I explore objects and language, from daily life and indigenous customs like the "ditas" (traditional bowl). Symbols of my figurative sculptures celebrate and honor a resilient heritage with practices that live on today.
Giboyeaux creates mixed media sculpture and abstract paintings that allow her to express visually what is in her mind and her heart as well as what she observes in people when she travels. The significance of her Puerto Rican identity in the diaspora permeates all of her work.

Lunchbox Moments: Seek Understanding. Share Stories. Stop Hate. 
Amie Bantz
September 29 through November 19, 2022
Opening Reception: Thursday, September 29 from 6 to 8pm
"Lunchbox Moments" are the formative occurrences in many Asian American kids' lives where a traditional Asian meal is eaten at school and peers in the lunchroom have some reaction, whether it be positive or negative. These stories make up a collective identity that is equal parts profound, beautiful, comical, and heartbreaking.
To share these stories and empower the AAPI community in light of recent attacks on Asian Americans in the U.S., Amie Bantz has been collecting narratives from members of the AAPI community and physically writing their stories onto spray-painted lunch boxes. This visual representation of storytelling empowers marginalized voices by providing a platform to raise awareness and eliminate hate. Learn more about the featured artist, Amie Bantz, here.
Experimental, Immersive, Thought-Provoking Art Wanted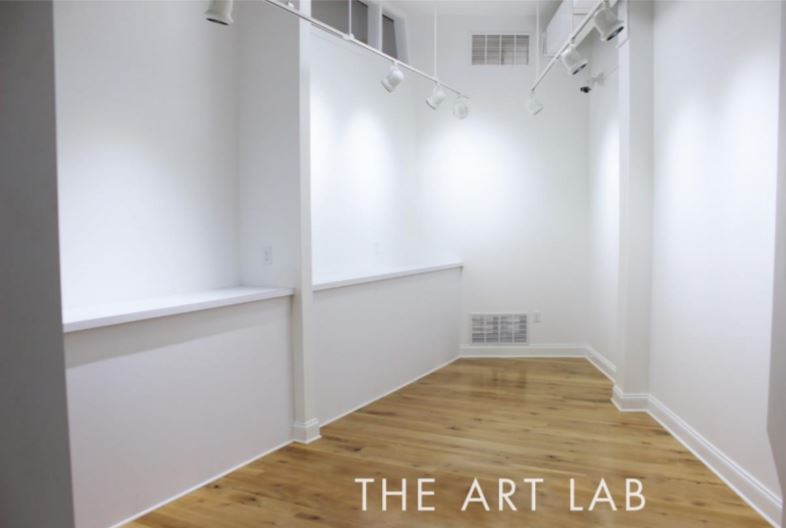 Creative York announces an open call for artists to submit proposals for the Art Lab for 2023. The Art Lab is a space to introduce and cultivate new work that contributes to the cultural growth of York and our community.
The Art Lab installations go beyond "art exhibit" into the realm of experimental, interactive, engaging installations. It's the space to explore and push boundaries, to go beyond "viewer and art" to "participant and art".
Click Here for Art Lab Proposal